1. Stretch out on the best beaches in the world
Isn't this what you came for in the first place? Luxuriate on the world-class beaches that are Maui's middle name. Just click on the Beaches category to get started.
2. Watch the sun set over the Pacific.
What's more glorious than a sunset on the beach! The majority of beaches in Maui offer outstanding westerly views. Just park yourself on your favorite Maui beach before sunset and let your soul soar as the setting sun shimmers on the water.
3. Explore Wai'anapanapa State Park
Wai'anapanapa State Park just outside of Hana offers sweeping panoramic views, sea arches, a black sand beach, fresh-water pool caves, and more. It's a must for all Hana adventures.
Wai'anapanapa State Park Page
4. Discover the Road to Hana.
The Road to Hana is a legend. Miles of twists, turns, lush rainforest, scenic ocean vistas, waterfalls, flowers, and the unexpected at every turn. A journey not to be missed. Drive it yourself or just enjoy the ride in a guided van tour.
Road to Hana Sites
5. Take a sunset dinner cruise.
Sailing slowly along the majestic Maui coastline, wind in your hair and live Hawaiian music in the air. Add a tasty meal and a Mai Tai's as the sun slips below the horizon. Yeah, this is the life! Check out our Pride of Maui article for a great value.
6. Ho'okipa, Lookout!
Ho'okipa Beach on the North Shore (five minutes past Paia) is a world-renowned surfing and wind-surfing destination. Ho'okipa Lookout is a parking lot on the edge of a cliff overlooking the action. During the winter months, when the North Shore surf is up, this is a great balcony for watching the best surfers in the world shred.
Ho'okipa Beach Park Page
7. Swim in the "Seven Sacred Pools"
Properly called 'Ohe'o Gulch, this is a string of well over seven pools and waterfalls starting many miles up the mountain. Part of the dramatic and rugged Kipahulu coastline past Hana, this is the most popular Road to Hana destination for good reason.
Seven Sacred Pools/'Oheo Gulch Page
8. Visit historic & eclectic Lahaina Town
An eclectic mix of old & new, Lahaina is Maui's most visited tourist attraction, and a uniquely Maui twist on "old-time-sea-town-meets-tourism."
Lahaina Town Page
9. Play world-class golf
Maui has world-renowned golfing. Kapalua, home of the PGA SBS (was Mercedes-Benz) Championship is one of many world-class golf courses Maui offers. *tip* Golfing pretty much anywhere in the afternoon typically involves significant wind.
Maui Golf Courses
10. Get the world's best donut on stick
What, you don't know what a donut on a stick is?! Or you're looking for something a bit more sophisticated? Have no fear, T. Komoda Store & Bakery in Makawao is absolutely legendary and offers a wide selection of the best baked goods in thousands of miles, and never disappoints. Tip: get there early!
11. Zip across the treetops
Ziplines are an incredibly fun way to see parts of Maui you'd never see. The best lines fly riders over rough terrain and verdant gulches, riders soar over a beautiful forest canopy. A zipline is a stationary cable stretched between two points, with the rider strapped into a trolley. Gravity pulls the rider along the cable – think Indiana Jones and you get the picture!
Maui Ziplines by Rating.
12. Watch the ethereal sunrise from Haleakala
Mark Twain called it "the sublimest spectacle I ever witnessed." Words can not do this event justice, but sunrises as viewed from atop the 10,000′ mountain are typically nothing short of legendary.
Haleakala Crater Page
13. Hike into the Martian landscape of Haleakala Crater
The landscapes inside the crater are surreal. Often compared to a moonscape, with the ranges of reds it more resembles a Mars-scape. Whatever you call it, it is a sight to behold likely like nothing you've seen before.
Haleakala Crater Page
14. Snorkel with sea turtles
The Hawaiian green sea turtle, a protected species, are becoming plentiful once again. You're likely to see them snorkeling at Ka'anapali Beach and Kahekili Beach Park. (But just look, it is illegal to harass or touch.)
Search MG for "Snorkel"
15. Take an eco-tour hike in the rainforest
Trek out on your own using our hiking guides/articles, hire a personal guide, or take a group tour with an experienced guided hike outfit.
Maui Hiking Guides
16. Bike down Haleakala volcano
There are no shortage of downhill biking companies on Maui. You can go with a group, or rent your own gear. If you go solo, you can start at the Haleakala Summit and either take the well-traveled paved Crater Road on down, or the exciting (and off-road) Skyline Trail.
(MG article currently under development – check back for link)
17. Get pampered
There are no shortage of opportunities to be pampered in Maui. From resort spas to massage, aromatherapy and healing arts. Maui has more options than you'll likely have days to experience them all.
(MG article currently in development – check back for link)
18. Snorkel in the Molokini Crater
Molokini Crater is a popular marine reserve sheltered inside a small volcanic crater island off of South Maui. Molokini is home to hundreds of species of fish and coral, some found nowhere else but Hawai'i. A snorkeling trip to Molokini Crater is usually unforgettable.
Molokini Crater Page
Molokini Crater Snorkel Charters
19. Peruse fine art galleries
Maui has many fine art galleries featuring an incredibly wide range of artwork. Galleries are so plentiful on Maui, you're even likely to stumble upon some in out-of-the-way unexpected places. Lahaina has the most concentrated selection of galleries, while Makawao, Paia and Hana towns (and also some resorts) have galleries as well.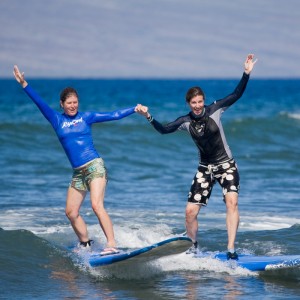 Learn to Surf!
20. Learn to surf/windsurf/kiteboard
If you never surfed, there are no shortage of folks dying to teach you how.
Our Surf Lesson Page
21. Go surfing/windsurfing/kitebaording
If you already know how to surf and brought your gear, you're in the right place – Maui is where surfers go when they've died and gone to heaven! If you didn't bring your gear, there are plenty of places to buy or rent gear for your visit.
Google Map with Maui Surf Shops
22. Have a picnic on the beach
Pack up your own picnic dinner and watch the sun set over the Pacific. You can prepare your own, or most establishments (even fancy ones) offer take out if you ask. For a fancier affair, there are also a couple businesses that cater romantic dinners on the beach complete with table & chairs, tiki torches, etc for about $250/person. (contact me for a referral.)
23. See 'Iao Valley
A lush rainforest surrounded by towering verdant cliffs, 'Iao Valley is the second wettest place in Hawai'i. Conveniently accessible from Central Maui, 'Iao Valley State Park has paved walkways, informational signs, and beautiful sightseeing so that it is easily accessible to all.
'Iao Valley State Park Page
24. Visit museums and learn about Maui's history
Maui's rich history can be uncovered at the many modest museums throughout the island. The Bailey House museum in Wailuku, the Sugar museum in Kahlui (Pu'unene), the Hana Cultural Center in Hana, the Hawaii Nature Center in 'Iao and the Maui Ocean Center in Ma'alaia are the most popular.
Hawaii Museums Association Website | Maui Page
(More MG articles in development – check back)
25. Take a helicopter tour
Take an exhilarating ride to witness Maui from a bird's-eye view. The quickest and most exciting way to tour through Maui's many micro-climates – from the Martian landscape of Haleakala Crater to the verdant East Maui rainforest. Touring by helicopter allows you to see loads in just an hour or two, and to fly into otherwise inaccessible areas. There are four companies to choose from.
Helicopter Tours
26. See an out-of-this-world Red Sand Beach
Red Sand Beach in Hana is an adventure: a short, but dramatic hike leads to a beautiful place likely unlike any you've ever seen. The beach itself is isolated, somewhat difficult to find and protected from the raging sea. Made of rust-red smoothed lava cinder pebbles and sand, this beach looks out-of-this-world against the deep blue sea and black lava rock sticking out of the ocean.
Red Sand Beach Page
27. Taste sparkling pineapple wine
The Tedeschi Winery in scenic Uluplakua is Maui's only winery. The grounds have beautiful views and are well groomed and planted with abundant flowers, shrubs, flowering vines and stately trees.
Keokea through Ulupalakua Page
28. See Hawaii's Largest Heiau
The Kahanu Garden in Hana showcases many native and Polynesian introduced plants alongside the states largest heiau. If you're interested in tropical plants or Hawaiian culture, this is a must-see on your trip to Hana.
Kahanu Garden Page
29. Volunteer on vacation
Instead of only consuming and taking, volunteering on vacation allows you to make a difference from your visit. Activities include the removal of invasive species, helping to restore native plants, helping to protect cultural sites and cleaning up beaches. Besides the good deed and feeling, volunteers often get access to protected areas and a small gift.
Pacific Whale Foundation Volunteering on Vacation Page
30. Learn SCUBA
What better place to learn SCUBA than on a coral reef teeming with life found nowhere else on Earth? Most resorts and many dive shops offer SCUBA certification.
SCUBA Charters & Gear
31. Learn to spearfish
Like to fish? Like to hunt with a crossbow? How about snorkeling and free-diving? If you like all these things then you'll think spearfishing is off the hook. (Sorry!) With spearfishing you have a spear gun similar to a crossbow for taking down your prey. It takes some getting used to, as the spear travels at a slower speed under water than an arrow does on land. If you'd like to learn how, contact me and I can hook you up with a friend of mine who offers private lessons in his best secret spots.
32. Go fishing for the big ones
Surrounded by all this ocean there are plenty of options for sport fishing. Most boats depart from Ma'alaea & Lahaina harbors.
Sportfishing Charters
33. Atune your aura
Maui is known among the new-age community to be one of the strongest focal points for healing energy on the planet. This has brought many of the world's best energy workers to settle here and offer their services. From training in Reiki to Chakra balancing, there is no shortage. Maui Vision Magazine is Maui's periodical where many practitioners can be found.
34. Watch the whales
During the winter and spring months Maui is graced with countless humpback whales birthing and mating. Whales can be observed from many roadside lookouts, beaches, or up-close on a whale-watch boat.
(lists of best lookouts coming soon)
Whale Watch Charters
35. Tour and relax at a lavender farm
The ladies absolutely love this place – Ali'i Kula Lavender is framed as agro-tourism and a farm, but this is really about women pampering themselves. The place sells everything you could imagine with lavender and offers self-guided and guided tours.
Ali'i Kula Lavender Article
36. Enjoy a wellness adventure vacation
If you would like to enjoy adventure, wellness and surfing as the themes to your vacation and want every detail taken care for you, SwellWomen on the West Side of Maui offers all inclusive surf and yoga retreats. Don't let the name fool you – aside from the women-only retreats, SwellWomen also offers co-ed weeks throughout the year.
SwellWomen website
37. Jump from a sea cliff into the ocean
Black Rock on Ka'anapali Beach is the perfect place to get your adrenaline fix. Easy to climb, and crystal clear water with few hazards below. Bonus is you'll likely be swimming with sea turtles in the water!
38. Camp on the beach, mountains and rainforest
There are many climate zones in Maui, and you can camp in most of them. Nothing brings you closer to the land than living on it. Campgrounds can be found in West Maui: Olowalu (private) and Papalaua Wayside Park (county/beach); Central Maui: Kanaha Beach; East Maui/Hana: Kipahulu (Seven Pools), Waianapanapa; Upcountry: Hosmer's Grove, Haleakala Crater, Polipoli Springs.
(MG Kanaha Beach, Hosmer's Grove, Polipoli & a general camping article are all currently in development – check back for updated links)
39. Go boogie boarding
There are more beaches to boogie board than you can shake a stick at. Skill levels range from "floating on a tiny wake till you're beached" to overhead big-wave sponging with fins and fancy board. Depending on the time of year and the swell, the more experienced will need to seek out the best breaks, while the novices will be able to boogie board at most small shore break beaches.
Search "boogie board" for the most popular.
40. Explore sea life in tide pools
Tide pools are their own ecosystem, and kids & nature lovers will find endless enjoyment exploring them. You'll encounter these at most beaches if you look, but if you really wanna get serious, search on "tide pools" to uncover our favorites.
41. Swim under a waterfall
What tropical fantasy doesn't include this scene? There are loads of spectacular waterfalls with pools along the North Shore and Road to Hana. The Waterfalls category will show you our favorites.
42. Watch world-class surfers at Jaws
Jaws is a huge tow-in surf break on the North Shore of Maui that sports the worlds largest surfable waves.
Jaws Page
43. Sip Mai Tai's on the beach
No instructions needs for this one.


(Note: Consumption of alcohol on most beaches by those of legal drinking age (21) is legal in Maui.)
44. Stargaze on Haleakala.
The summit of Haleakala ranks among the very best sites in the world for viewing the night sky. Even if you're not normally a stargazer, the view of the night sky from here is unforgettably out of this world!
Haleakala Crater Page
45. See a black sand beach
The Black Sand beach at Wai'anapanapa in Hana is a big draw for many visitors – there is something about black sand that fascinates folks. Another far lesser known black sand beach is Oneuli Beach in Wailea. There are many more "unknown" black sand beaches between Hana and Wailea just waiting to be discovered by the adventurous.
MG will have at least two more lesser-known black sand beaches soon!
46. Behold vast barren lava fields
Past Makena, at the end of the road is the 'Ahihi-Kiana'u Reserve area, large stretches of Maui's most recent lava flow can be viewed here. Hikes in this area have been suspended, but the view is still striking. These flows can also be viewed from the Ulapalakua area just past Kula as you finish the tour around the backside from Hana – or if you're visiting the winery.
(MG article on 'Ahihi-Kiana'u currently in development – check back for updated links)
47. Get married on the beach
What could be more romantic than saying your vows (or renewing them) on the beach in Maui? I have a good friend in the industry if you need some direction, just contact me.
48. See a blowhole
A blowhole is hole in the ground that connects to an underground, partially submerged ocean cave. The cave and opening are shaped in such a way that when the ocean rises or waves crash into it, a jet of water shoots into the air. Maui has two notable blowholes, including: Nakalele Blowhole in West Maui and Waianapanapa in Hana.
49. Drive a circle around West Maui
The northern side of West Maui has been called "West Maui's Road to Hana" – while I don't know about all of that (sorry, not even close), it is a special drive that no adventurer should miss. If winding narrow roads at the edges of cliffs make you nervous, you'd best skip this one – although driving clockwise puts you on the "body-shop side" of a miscalculation (rather than the "free-fall-plunge-o-death" the guy coming the other way will experience.) There are many stops along the way and the majority of this trip is largely for driving and sightseeing enjoyment.
West Maui's North Shore Page
50. Hike in a bamboo forest
The ambiance and hollow percussive sounds of bamboo striking one another transports people to a zen nether-world. The most popular bamboo forest hike through gigantic bamboo stalks is just past Hana at the Pipiwai Trail. A shorter hike (with correspondingly shorter bamboo) is one of the first waterfall hikes on the Road to Hana at the Nailiilihaele Stream & Waterfall Hike.
51. See Charles Lindbergh's grave
The famous aviator is buried 8 miles past Hana in Kipahulu, in a non-assuming, simple marked grave of his own design. Lindbergh's grave can be found at Palapala Ho'omau Church under the shade of a Java plum tree.
Back Side of Haleakala Page
52. Ride on a horse into the Haleakala Crater
Going into the Crater on a horse will take regular folks a whole lot further in than most would otherwise see. The ride starts at the summit and takes Sliding Sands trail to the base of the crater 3.8 miles in.
Pony Express Page
53. Go to a Luau
Luau's are a feast of food combined with great Hawaiian and Polynesian entertainment. Maui has nine regular commercial luaus (in varying degrees of authenticity.) The overall highest-rated and most authentic luau is the Old Lahaina Luau. The best intimate, high-end luau for couples is the Feast at Lele (also in Lahaina Town.)
All West Maui Luaus
54. Take a long walk/run on the beach
Maui has no shortage of contenders for this one – favorites by region: West Maui: Ka'anapali Beach; North Kihei: Sugar Beach (article planned), Kihei: the Kama'ole Beaches; Makena: Big Beach; Central Maui: Kanaha Beach (article in progress); North Shore: Baby Beach along Baldwin Beach Park and ending at Paia Bay.
55. Go shopping!
There is shopping here for every taste and style – from t-shirts to Versace, from skimpy bikinis to Rolex watches. If shopping is your bag, Maui won't leave you wanting for places to break out the plastic!
56. Bare it all on a nude beach
By far the most well known (and populated) clothing optional beach is Little Beach in South Maui. There are also a few lesser-known secluded clothing optional beaches. Law and cultural acceptance vary, so read the nude beach page before you decide to swim in your birthday suit!
57. Drive on from the Road to Hana.
If you're an adventurer who appreciates "the road less traveled", continue on past Hana and Kipahulu to Haleakala's back side. It's a wonderfully scenic continuation of the Hana trip as the road hugs the coast before gaining altitude above South Maui.
Back Side of Haleakala Page
58. Explore Maui's longest lava tube
A cool change of pace from the typical Road to Hana trip – you can explore a portion of the largest lava tube (cave) in Maui. Many interesting features making it a must-see for those interested in caves and geology. Kids also absolutely love it!
Ka'eleku Cave Page
59. Kayak with whales and dolphins
Rent a kayak and set out to sea. Whales, sea turtles, and other marine life abound. During whale season you're likely to come astonishingly close to these massive creatures.
(MG article currently under development – check back for link)
Search MG for "Kayak"
60. Watch a free Polynesian dance, drumming and hula show
Presented at the Whaler's Village shopping center in West Maui, if you won't be attending a Luau but are interested in dance, this is a quality presentation. Whaler's Village Stage at Ka'anapali Beach, daily from 7-8pm.
Whaler's Village Website | Event Page
61. Take a tour of an organic family farm
Past Hana in Kipahulu, Ono Organic Farms offers tours by reservation, including samples of fresh fruit right off the trees. Tours are limited to just Monday and Thursday afternoons at 2:30 PM – you must make a reservation.
Ono Farms website